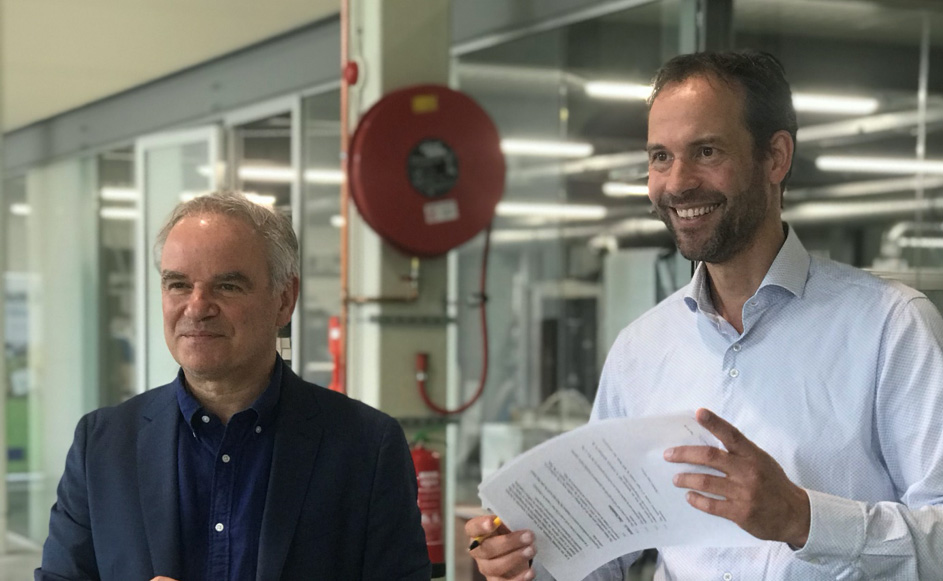 "Increasing demand for natural solutions in seed disinfection"
PETKUS-Selecta is very happy to announce the new cooperation with VitalFluid, a tech company specialised in plasma technology, based on the High Tech Campus in Eindhoven. This cooperation will boost the development of biological disinfection solutions for flower and vegetable seeds.
PETKUS-Selecta CEO Marcel Wolbrink recently signed the Key Partner Agreement with Paul Leenders, CEO of VitalFluid, confirming the shared ambitions.
VitalFluid has developed expertise, technology and equipment that uses plasma technology to create so-called Plasma Activated Water. This natural process is a 1 to 1 copy of how lightning creates plasma activated water in a thunderstorm. Plasma Activated Water has several unique properties, including disinfecting capabilities during a certain timeframe after its creation.
More sustainable ccoperation
Both PETKUS-Selecta and VitalFluid recognize the need for the seed treatment industry to change towards a more sustainable operation. Many of the currently applied chemical products will in the future no longer be available for application in the food industry. Both parties feel the need to develop cleaner and more sustainable alternatives. They recognize that combining the VitalFluid and PETKUS expertise and existing technologies as HySeed bio, will contribute to new solutions and feasible alternatives for the current chemical products. It offers great opportunities for innovation of integral seed treatment.
Marcel Wolbrink CEO PETKUS Selecta: "I am very enthusiastic about the cooperation with Paul and his team of Vital Fluid. At PETKUS, there is an increasing demand from our clients for natural solutions in seed disinfection. Combining the expertise of VitalFluid with our experience and equipment, enables us to provide our clients with optimal solutions in seed disinfection. This perfectly fits the global PETKUS strategy, in which the application of natural solutions is one of our key points."
Paul Leenders CEO Vital Fluid: "It is very exciting to have the opportunity to cooperate with PETKUS as a partner in seed treatment. In-depth knowledge and expertise on seed technology and equipment paves the way for sustainable seed treatment solutions with plasma technology. This cooperation will accelerate the route to market for plasma water seed treatment."
First milestone will be the construction of a test setup in the PETKUS-Selecta demo center in Hem, Noord-Holland. The trial setup will be used to develop recipes and fine-tune the use of Plasma Activated Water in combination with steam disinfection, HySeed bio. The PETKUS HySeed bio unit disinfects seeds with active steam, enabling effective, gentle and sustainable cleaning of the seed.
The test setup and the PETKUS-Selecta demo center can be visited by making an appointment.